SILVER
Fineness, price and care
Fineness
Pure silver, also called fine silver, is rather soft, very malleable, and can be easily damaged. In jewelry, pure silver is mixed with another alloy, usually copper, to make it more resistant.
The most popular of those alloys is the Sterling Silver, which contains 92,5% pure silver. As our silver products are all in Sterling Silver, you will find the stamp "925" on all of them.
Price
The small quantity of copper added to the silver doesn't change value of the metal much. The price of a silver product is more impacted by the labor and the work during the manufacture or creation of such a product, by the skills of the artisan and the design complexity.
Rhodium
All M'iTiK® products are rhodium plated in order for the silver color to last longer and preserve it from oxidation (blackening). Silver products will naturally oxidize depending on the frequency of its use, age, skin contact, etc. A rhodium layer is plated through an electrolyte solution to improve the jewelry quality. The result is that plated sterling silver is a more precious and valuable metal than classic 925 silver.
For more information on the rhodium in jewelry industry: https://www.sharrettsplating.com/coatings/rhodium
Care
With proper care, your fine silver will last a lifetime. To minimize scratches and other damages, store your jewelry either in a tissue pouch or in a separated compartment. Avoid exposing your fine silver to chemical products when you clean with bleach or ammonia or when you go to chlorine water as these products can damage the silver.
Clean
To clean your silver, use specific polishing products to remove the tarnish. You can find fine silver polishing products, solutions, and soft jewelry cloth in most drugstores. It is easier to remove the tarnish when it is visible. Wearing your silver jewelry remains the best way to avoid tarnish. However, frequent cleaning of your silver products will allow to keep your silver shining.
ONYX
According to legend, Cupid's arrow cut Venus' nails while she was asleep. The nails that fell on the ground were changed into rocks because parts of a divinity can't die.
Used since the oldest antiquity for jewelry creation, this fiber of silica may contain some virtues. Worn, this stone encourages us to be more moderated and to contribute more right decisions.
Stone of protection: virtues and benefits
The onyx has been used since ancient times as a decorative stone, bringing protection power. Stories tell that it's a rampart against negativity; it helps free us from negative emotion, such as pain and sorrow.
Black onyx even has protective energies. Black signifies that light is missing, it can be used to create invisibility: black onyx is known to strengthen self-esteem, stimulate senses, increase inner strength, and improve self-control. It also symbolizes purity. According to legends, the black color of the stone will absorb negative energies.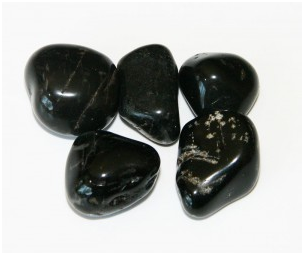 The Romans didn't start a war without wearing onyx amulets to bring them strength and courage.
Onyx is a semi-precious stone, which is from chalcedony, a stone made of crystallite of quartz.
There are onyx-fields everywhere in the world, from Argentina to Australia all the way to Sri Lanka. The most important are in Brazil, India and Madagascar.
Grand Camée de France, aged around year 20, is a cameo with unexpected dimensions made in sardonyx* of 5 lays. Its height is 31cm (12 inches) for 26,5cm of length (10 inches): it's the biggest cameo from antiquity known; you can admire it in Cabinet des Médailles de la Bibliothèque Nationale de France (Medals cabinet from National Librairy of France).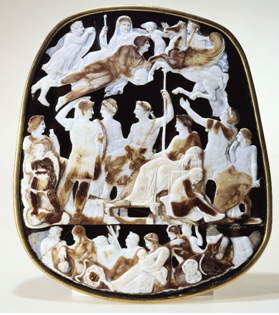 *The sardonyx is a variation of onyx.
The Gemma Augustea, masterpiece of the 1st century A.D., is a sardonyx of 2 lays. It is 19,05 cm (7 inches) of heigh for 22,86 cm (8 inches) of large. You can see it at Kunsthistorisches Museum of Vienna.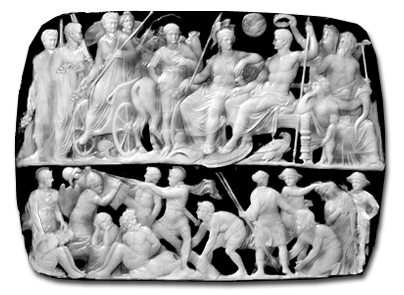 ZIRCONIUM OXIDES
Zirconium oxide or oxide, is a synthetic stone which is closed to diamond by its brightness, and similar to crystal by its clarity.
How the oxide is created ?
The stone is man-made in a laboratory and is crafted out of a zirconium powder and zirconium dioxide mixed. This synthetic stone is strong, flawless, and most of the time is transparent. It is also possible to give it colors.